Maps and Location of the US Virgin Islands
Capitol: Charlotte Amalie, St. Thomas
Area Code: 340
US Virgin Island Zip Codes:
St. Thomas- 00801 to 00805 with 00802 being for physical addresses and others for PO Boxes
St. Croix- 00820 for physical addresses and 00823 and 00824 for PO Boxes
St. John- 00830 Standard and 00831 for PO Boxes
Area: total- 352 sq km land- 349 sq km water- 3 sq km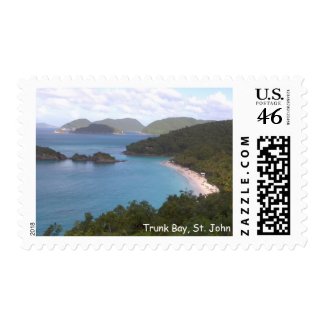 US Postage Stamp Trunk Bay St. John
by
The_Beach
See other
St Stamps
Officially known as the United States Virgin Islands, the Virgin Islands are an organized, unincorporated territory of the US with policy relations between the Virgin Islands and the US under the jurisdiction of the Office of Insular Affairs, US Department of the Interior. Island residents are US citizens, but they do not vote in US Presidential elections. There have been a number of efforts in recent years to change this, but so far they have been unsuccessful. Locally, the USVI is governed by a Governor and Lt. Governor as well as an unicameral Senate with 15 seats; members are elected by popular vote to serve two-year terms. The Virgin Islands do elect one non-voting representative to the US House of Representatives.
The US Virgin Islands were formerly part of the Danish West Indies and were acquired from Denmark on March 27, 1917. This date is now an official holiday in the USVI known as Transfer Day. More information on the history of the US Virgin Islands can be found on the individual island sites for St. John history and St. Thomas history.
Tourism is the primary economic activity, accounting for 80% of GDP and employment. The islands normally host 2 million visitors a year. The manufacturing sector consists of petroleum refining, textiles, electronics, pharmaceuticals, and watch assembly. The agricultural sector is small, with most food being imported. International business and financial services are a small but growing component of the economy. One of the world's largest petroleum refineries is at Saint Croix. The islands are subject to substantial damage from storms. The government is working to improve fiscal discipline, to support construction projects in the private sector, to expand tourist facilities, to reduce crime, and to protect the environment.